A deep healing process with Rebecca Bredenhof
Every human being carries the inheritance of past generations on all levels. We know about physical characteristics, but also feelings, illnesses, life's events, spiritual and social convictions can reside in our cellular structures. In every generation there will be something unfinished or unknown that can continue through generations until a family member realizes that deep healing work is needed. In this process, healing or moving into wholeness does not mean eliminating wounds, but discovering what the context of wounds are and understanding the gifts that are inherent in the healing.
Come to deep recognition of yourself and your roots.
In the HFT process, the reconciling power of Reiki makes it possible to look at and relate to your family history in a whole new way. It is only when reconciliation with family patterns that strain your energy system takes place that the power of your ancestors can emerge and enrich your life.
In this process, the distance treatment of the second Reiki degree is the sacred 'tool' and healing takes place by bridging time and space. Wonderful dreams, sudden memories, conversations with relatives you never thought possible or a marked change in attitude to life are possible results that reveal the hidden past.
Healing Your Family Tree with Reiki® is not therapy, but a profound personal process in which life and family stories play an important role. It may also be a new deepening in your Reiki practice.
Participating in an HFT class is an opportunity to be part of the growing number of people who find that their Reiki practice can bring an invisible, inner movement into wholeness in family, society and humanity. You will experience that the HFT process is not only a personal healing process, but that it extends much further.
In the first weekend of Healing Your Family Tree with Reiki® you will learn how to use the HFT process for your personal healing. After that, you will work remotely with one of the group members every day for six weeks and you will receive personal guidance from Rebecca. To conclude, we will meet again for a weekend and you will also receive tips for the future.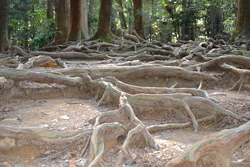 Every atom that's a part of me,
is just as much a part of you !
Also read:
Practical info, location The Hague
Data:
Friday 22 until Sunday 24 September and Friday 3 until Sunday 5 November
Friday 15 until Sunday 17 March and Friday 26 until 28 April 2024
Times: Fridays from 4pm – 6.30pm, Saturdays from 9.30am - ± 6pm and Sundays from 9.30am - ± 7pm
Investment: € 950,- (two weekends and six weeks personal guidance, separate donation of € 100,- or more if you need translation)
Information: Rebecca Bredenhof, 06-12181950 / Dit e-mailadres wordt beveiligd tegen spambots. JavaScript dient ingeschakeld te zijn om het te bekijken.
Registration: via registration form
Organisor: Anne Boerrigter, Dit e-mailadres wordt beveiligd tegen spambots. JavaScript dient ingeschakeld te zijn om het te bekijken.
Language: Dutch-English
Rebecca Bredenhof has been a Reiki Master in Usui Shiki Ryoho since 1996. In 2007, she eagerly embarked on a profound healing of her family tree through the Healing your Family Tree with Reiki developed by Marta Getty. Enthusiastic about the result, she decided to start teaching this beautiful process herself. Marta Getty prepared her for this work over a period of five years. Since the beginning of 2013, Rebecca is the first and only trained and certified teacher Healing your Family Tree with Reiki (HFT). A few days before Marta Getty passed away on May 6, 2020, she handed over the entire HFT work to Rebecca, including the trademarks.